Our old refrigerator died a couple of weeks before Christmas. I was out of town at the time, so my husband had to manage the crisis, which he did with aplomb.
"You know we'll end up redoing the whole kitchen because of this," I warned him.
He wasn't surprised. I'd been complaining about our kitchen for years. This is what it looked like: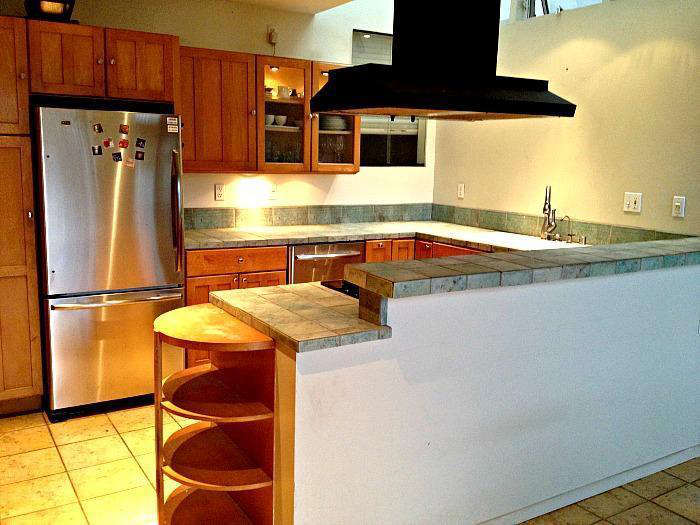 This doesn't look so bad, does it? Someone even said as much when I posted this image on my Facebook wall. Well, pictures lie. But it wasn't all bad. The kitchen had some advantages that were undermined by its shortcomings.
Decent counter space for the size. But the counters themselves were in awful shape — chipped sea-foam-green, textured tile countertops that had aged badly, were impossible to keep clean and useless as a work surface. To make matters worse, there was an odd breakfast bar/ledge thingy. I still don't know what purpose this was meant to be other than a collection station for crap.
Lots of natural light (it has a large skylight). But the unfortunate color scheme — that sea of ugly green tile and the death-star black vent — sucked the natural light out of the room.
Cabinets in decent shape. Yay!I kept them, which saved time and money. But even though the cabinets were fine, the storage space for a serious cook was lacking.
Read more: How to Remodel a Kitchen in 9 Days
So what did we change? Everything except for the footprint and cabinets: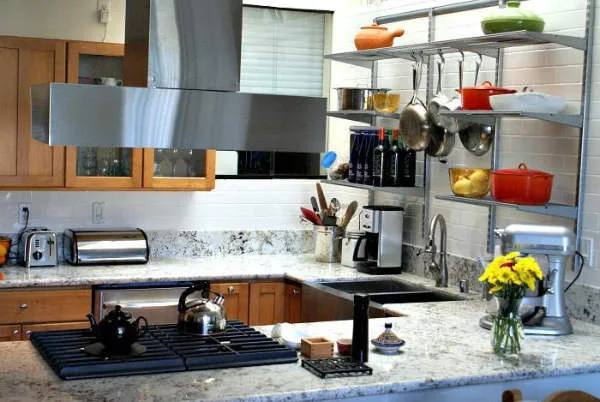 SONY DSC
New countertop. I opted for white granite, which is durable and easy to clean. It also reflects the ample natural light. I had the breakfast bar ledge removed and the countertop extended an extra 6 inches to allow plenty of clearance behind the range and open up the room.
Added storage. The large blank wall over the sink was covered with white subway tile (again, to reflect light and brighten the room). Then we installed a custom-designed yet very affordable Elfa shelving system from the Container Store. It's sturdy, functional and decorative. Using it to store bulky cookware opens up a ton of space in the cabinets.
Replaced aging appliances. Soon after the refrigerator was replaced, I also replaced the ancient, water-guzzling HotPoint dishwasher that would not die. The old kitchen had an aging cooktop installed — oddly — above a poorly calibrated wall oven. That was replaced with a slide-in KitchenAid Architect II Series  dual-fuel convection range. The black vent hood was switched for a modestly priced stainless-steel NuTone model. Joey clad the back of it and the column in custom-fabricated brushed stainless steel to give it a more upscale look.
For more details on materials I used, visit Content Kitchen's Kitchen Makeover Pinterest board.
Swapped out the sink.The old sink was porcelain — or maybe ceramic. Who knows, but it was shallow, which made cleaning large pots a pain. And it held onto stains like the Dickens. I wanted the new sink to be roomy and impervious to stains. The solution: a deep, stainless-steel farmhouse sink. I went for a double bowl model (similiar to this farmhouse sink). A tad pricey, but worth it.
Replaced the floor. The old kitchen/dining room floor was covered in some icky tile that looked dingy even when it was clean. That was changed out for a simple terra-cotta tile.
Was it worth it? You bet! Whenever you redo a kitchen people always go on about how it enhances the value of your house. Maybe. OK, probably. But the real value, for me, is creating an environment that makes something I love to do — cook — even more enjoyable.