Even a favorite 20-year-old banana bread recipe is ripe for some updates.
(UPDATED 9/10/23)
I picked up some bananas for a staff snack during a photo shoot the other week. And as I grabbed a bunch at the store, I thought, "Well, if these aren't eaten, I know where they'll go." In fact, I counted on them being ignored so they could ripen over the next few days and I could snag them for a loaf of this Marbled-Chocolate Banana Bread from the Cooking Light archives. It's both pretty to look at and pretty darned good to eat.
It's a recipe I remembered fondly from my days at the magazine, though my approach to it, like so many other things, has evolved over time. The original version, now 20 years old, calls for egg substitute. I now just use real eggs. When I first revisited the recipe in 2014, I used ghee in place of regular butter for added richness, the chocolate I use these days still is always dark, and I still sub a cup of whole-wheat pastry flour for half the all-purpose flour to add a bit of fiber. Oh, yeah, and I couldn't resist tossing in a handful of chopped walnuts. (As part of the evolution of the recipe, I'm calling my version "Chocolate-Marbled Banana Bread.")
For my latest update, as of September 2023, I've returned to calling for regular butter, but browning it in a saucepan. It's a small step that adds an extra boost of nutty flavor that serves this banana bread well.
So a lot has changed. And a lot hasn't. The spirit of this banana bread is the same, despite my tweaks. And that's just the way a solid recipe should work. At the very least, it's a reliable guideline so most readers can achieve a consistent outcome. Great recipes — I'm thinking of those written by the likes of Julia Child or Nigel Slater — are also works of literary expression that advance a lively, ongoing conversation.
What makes a recipe "perfect"?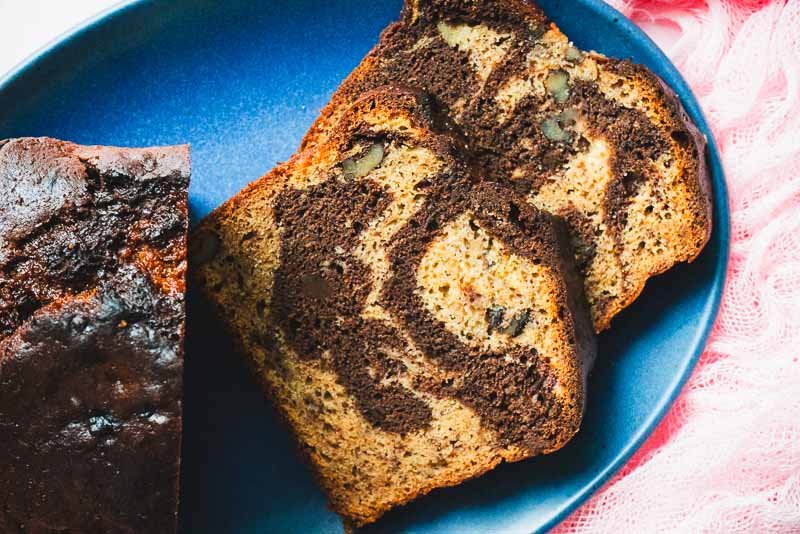 Chocolate-Marbled Banana Bread
¼ cup butter
1 cup all-purpose flour
1 cup whole wheat pastry flour
¾ teaspoon baking soda
½ teaspoon salt
1 cup sugar
1½ cups mashed ripe banana (about 3 bananas)
1/3 cup plain Greek yogurt
2 large eggs
½ cup chopped toasted walnuts
½ cup dark chocolate chips, melted
Cooking spray
Preheat oven to 350°F.
Melt butter in a small saucepan over medium heat. Cook 2-3 minutes or until butter is light brown and smells nutty. Keep a close eye on the butter as it cooks – it can go from just right to burned in seconds. Remove from heat.
In a large bowl, combine flours, baking soda and salt, stirring with a whisk.
In a medium bowl, whisk sugar and melted butter until well blended. Stir in banana, yogurt and eggs. Add to flour mixture; stir just until moist. Stir in walnuts.
In a small bowl, combine 1 cup batter and chocolate. Spoon plain batter alternately with chocolate batter into a 9 x 5-inch loaf pan coated with cooking spray. Swirl batters together using a knife (voila — it's marbled!). Bake 1 hour and 15 minutes or until a wooden pick inserted in center comes out clean. Cool 10 minutes in the pan on a wire rack; remove from pan. Cool completely on wire rack.
Serves 8