Jump to recipe
I'm not vegan, but I've been on a bit of vegan kick lately. There are plenty of health, animal welfare and environmental reasons to adopt a plant-based diet. But my current interest is really more culinary than ethical. Which brought me to the unique challenges of vegan baking.
I'm seeing a whole lot of great vegan fare on restaurant menus — and often served alongside so-called standard dishes. And I've come across some terrific vegan cookbooks, including Robin Absell's Big Vegan (Chronicle) and Tess Masters' forthcoming cookbook based on her blog, The Blender Girl (Ten Speed Press). But when it comes to plant-based baking, the must have is Vegan Chocolate: Unapologetically Luscious and Decadent Dairy-Free Desserts (Running Press) by Fran Costigan.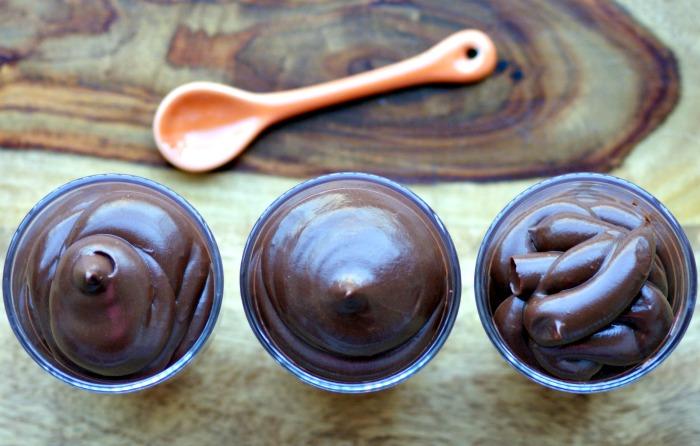 In fact, if you like to bake, this a cookbook you'll want for your library, even if you don't follow a vegan diet. First and foremost, Costigan is a crackerjack pastry chef, which means her techniques are meticulously thought out. Her recipes, which are clear and easy to follow, are a pleasure to make: The Bittersweet Chocolate Ganache Glaze, made with almond milk and olive oil, comes together with a gorgeous sheen. It's a component used in several other recipes, including the spectacular Bittersweet Ganache-Glazed Chocolate Torte to Live For (my new favorite chocolate cake!), but you'll want to grab a spoon to gobble it as is.
These days,  many recipe names suffer from hyperbole — "genius," "brilliant, "best ever" — and few live up to the hype. But Costigan's recipes deliver on their promise to be uncompromisingly delicious. Give it a try for yourself with this rich dark-chocolate pudding.
Fran Costigan's Almost-Instant Chocolate Pudding
With this recipe, pastry chef Fran Costigan set out to create a vegan version of old-school instant chocolate pudding. This rendition is a whole lot better. It's a small-batch recipe that really does yield just 3-4 servings, or even just 2 really generous portions.

Ingredients
1/2 cup organic granulated sugar
1/4 cup organic cornstarch
1/4 cup cocoa powder
1/4 teaspoon fine sea salt
1-3/4 cups plus 2 tablespoons vanilla almond milk
1-1/2 ounces dark chocolate, chopped
1 teaspoon pure vanilla extract
Instructions
Sift the sugar, cornstarch, cocoa and salt through a wire mesh strainer into a medium saucepan. Slowly stir in the milk. Keep stirring until there's no trace of any of the dry ingredients. You want to be sure the cornstarch is completely dissolved before you turn on the heat or you'll end up with lumps.
Cook over medium-high heat, whisking frequently, until the pudding begins to thicken and is close to a boil. Adjust the heat as needed to reach a high boil, but not so high that the bottom scorches. As soon as the pudding starts to boil, lower the heat and let it boil gently for another minute, stirring frequently with a silicone spatula.
Remove the saucepan from the heat. Add the chocolate, gently stirring with a silicone spatula until the chocolate is melted. Stir in the vanilla.
Scrape the pudding into a bowl or into individual ramekins. It will be set and ready to gobble in about 30 minutes at room temperature (faster if you set the bowl in an ice bath). You can also refrigerate it for up to 24 hours (trust me, it will be eaten long before that). If you refrigerate it, cover the surface with plastic wrap, making sure the pudding adheres to the pudding to prevent a skin from forming.
© 2021 © 2021 Alison Ashton/Content Kitchen